Agiri Goshiki



Title

Ninja

Gender

Female

Hair

Purple

Eyes

Pink

Occupation

Student
Ninja

Manga Debut

Anime Debut

Voice Actor

Ai Takabe (Japanese)
Rozie Curtis (English)
Agiri Goshiki (呉織 あぎり Goshiki Agiri?) is the tritagonist in Kill Me Baby. She is a ninja who is attending Yasuna and Sonya's high school on business.
Appearance
Edit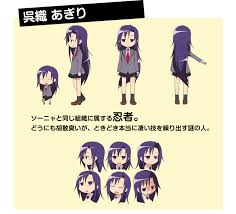 Agiri is a high school girl, who has long dark purple hair with messy bangs swept aside with long thin strands and eminence eyes. She wears the same school uniform that Yasuna and Sonya wear. She wears blackish-grey ankle socks.
Biography
Edit
Agiri is a calm and nice person. In the anime she plays the role of a ninja. She is a laid back ninja from the same organization as Sonya. She transferred to Sonya's school for some assignments and stays at a former ninja club room without permission. She often perplexes Sonya and Yasuna with dubious 'ninjutsus'. Sonya always describes Agiri as someone not to be trusted because she is always selling 'ninja tools' which are actually modern battery operated walkie-talkies or some other thing like that.
Although Agiri appears to be a normal girl who just pulls some tricks to stupefy Yasuna and Sonya, She fools Yasuna by telling her dumb logic and some common ways of dealing things as 'special ninja techniques' but is always able to perform those tricks herself without letting Yasuna or even Sonya know how she did it and how to do it.