Kill Me Baby (キルミーベイベー Kiru Mī Beibē) is a Japanese four-panel manga series written and illustrated by Kaduho which began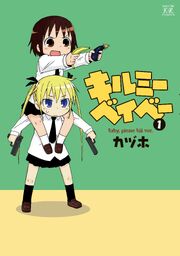 serialization in Houbunsha's Manga Time Kirara Carat from July 2008. It follows the school lives of a female assassin, her dimwitted friend and sometimes a ninja. An anime adaptation by J.C. Staff (which was originally going to air in Fall of 2011) aired in Japan January 5, 2012.
Voiced by: Chinatsu Akasaki (Japanese), Hilary Haag (English)
Sonya's naive and kindhearted classmate and self proclaimed friend, who is often friendly to Sonya despite how dangerous and violent she is.
Voiced by: Mutsumi Tamura (Japanese), Luci Christian (English)
A foreign trained assassin attending a regular high school. She is rather cold to Yasuna and puts her through all sorts of physical abuse.
Voiced by: Ai Takabe (Japanese), Rozie Curtis (English)
A laid back self-proclaimed ninja from the same organization as Sonya.
Voiced by: Rie Kugimiya (Japanese), Brittney Karbowski (English)
A redheaded and green-eyed character with no name who was supposed to be part of the main cast, but was dropped as Yasuna had supposedly taken on all her personality traits.
Media
[
]
Manga
[
]
Kill Me Baby began its serialization in the July 2008 issue of Manga Time Kirara Carat manga magazine after prototypes of the manga were published on earlier issues. Houbunsha published the first compilation volume on January 27, 2009. A total of twelve volumes have been published.
Anime
[
]
An anime adaptation by J.C. Staff aired on TBS between January 05, 2012. The opening theme is "Kill Me, Baby!" (キルミーのベイベー! Kiru Mī no Beibē) by Mutsumi Tamura and Chinatsu Akasaki while the ending theme is "The True Secrets of the Pair's Feelings" (ふたりのきもちのほんとのひみつ Futari no Kimochi no Honto no Himitsu) by Tamura and Akasaki. These theme songs and all of background music are composed by EXPO, a synthpop group consisting Kimitaka Matsumae and Suguru Yamaguchi. The series has been licensed in North America by Sentai Filmworks.