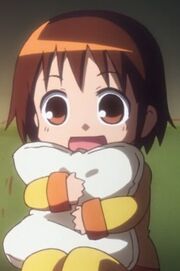 Hello, Yakisoba here. Again.
I'm not that inactive, but I kind of feel like it. Mostly because I have a fuckton of free time but still.
I have been mostly doing some really minor changes as of lately, headcanons included. Istillhavetodothatspoilertemplatefortheloveoffuckinggod
As for my current plans, it's to create and give images to the chapter pages (episode ones will get them by the time I get around to rewatch the series, though). Since I have a source to actively take captures from, it should be somewhat quick. As for the Volume 1 (Chapters 1-14), these will be replaced with (somewhat) higher quality images.
Also, for some reason I'm also wanting to adopt the wiki since I'm literally the most active user here so that would work, right? *laugh track*
-Yakisoba, who should be doing something else, like always.